As you can imagine, we were rather excited to come across HoneyTree's beautifully illustrated stationery – there are some designs that are so in line with Rocket Gardens that we wanted to get in touch with them and find out a bit more. This resulted in a little chat with Lizbeth, the talented illustrator behind the brand (Q&As below!) and the launch of a fab
competition
which you should definitely enter if you're reading this post in time (competition closes 11/06/19)!!
Can you give us a little snapshot of what HoneyTree – Paper Made Personal is all about?
At HoneyTree, we are passionate about providing the best design quality and experience possible made with love in our Somerset studios.  Every order is unique and we love to see what our shoppers choose every day. Since 2009, HoneyTree has been thedestination for those that are passionate about communicating through handwritten correspondence and those hosting the best parties as invitations make up a large part of our sales.
Obviously there's a bit of a bee theme in your brand name and logo, how did this come about?
The name HoneyTree we created as we wanted something that felt relatable to our type of customer, (Wouldn't we all love a HoneyTree in our life?) Naturally there is a strong bee theme in the name which was considered as I have never met anyone who doesn't think bees are extraordinary little beings.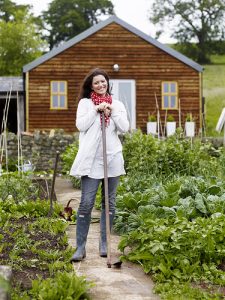 Where do you draw all your inspiration from?
Perhaps half of the 2000+ illustrations are suggestions from our customers, rarely is there a week that goes by without someone emailing in a suggestion, which is so lovely and many of the illustrations are inspired by what is around me. We are surrounded by the beautiful Somerset countryside so you cannot help but be influenced by this.  I often visit lovely gardens that are open throughout the year and there seem to be quite a few restaurants in the area that grow their own produce which again is very inspiring. We do the same at home and find we can tell when it's home grown! We recently visited the newly opened Emily Estate near Bruton which I am sure I will continue to visit as the gardens are only recently planted, it will be lovely to follow the progress of such an ambitious planting programme and there is also a wonderful restaurant serving veg from their veg gardens and delicious South African wine from their wine estate outside CapeTown.
Which 3 HoneyTree designs do you think will most appeal to Rocket Gardens customers?
Our bee designs are so popular and we imagine that these are chosen by the green fingered among our shoppers.  The apple tree looks so lovely on letterheads and we have so many verities of Wellies (as we all need these!)
And finally, what is most exciting at HoneyTree at the moment?
We are always excited at Honeytree as we love to see what our customers are designing and having all the stationery printed and produced on site enables us to be in touch with current trends.  This year we moved HoneyTree to Frome in Somerset which is a creative hub for independent business and we love it.  Lastly, in Feb this year we made a little film about HoneyTree as we felt it was a great opportunity to celebrate our tenth birthday!  (perhaps the most exciting thing therefore, is we have been chosen by stationery lovers for 10 years from all over the world and can't wait for the next decade and the innovations we can bring.