Fruit Garden
Popular fruits that are perfect for popping in pots or borders.
This is quite a neat collection of different fruits that are easy to look after and which will crop year after year. You can plant them in amongst existing beds and borders, in pots, or set out a little patch just for fruit. They are all easy to maintain and you'll receive a full growing guide with your plants.
Space required: 10m2
We will send you all of your plants in a single delivery: Between late November and April.
Can be grown in: Large containers, raised beds, borders or veg patches.
How it works: You can order your fruit garden at any time and we'll send your plants to you in a single delivery as soon as we can after that date. You will also receive a helpful growing guide packed full of tips and advice so you don't even need to have any gardening knowledge.
Please note that the contents of this garden may vary slightly depending upon the season.
Contains the following dormant fruit bushes and canes
Gooseberry Bush
x 1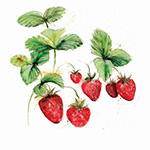 Strawberries
x 10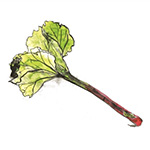 Rhubarb Crown
x 1
When we deliver
We deliver these gardens from late November until March, depending upon the season. It is a little tricky for us to give a specific date as the fruit bushes and canes are dispatched when they are dormant as this is the best time for them to travel and be planted, so we are a little dependant on the weather.
Do I need to sign for them?
All our plant orders are dispatched with an overnight courier* to mainland UK and do not need to be signed for when they are delivered, but will be left somewhere safe. When placing your order, please let us know where you would like the plants left if you are not in when the courier delivers.
We will keep you posted
You will receive an email approximately a week before your order is dispatched and another on the day your plants are packed and leave us so you know to expect and prepare for their arrival.