Strawberry Patch Planter
With just a little TLC you will have strawberries for years!
These lovely wooden planters arrive with everything that's needed to create a deliciously productive strawberry patch. Simply add water to the peat free organic compost bale and mix with the organic plant nutrients provided. Then pop in your strawberry plants and place in a warm sunny location.
With just a little TLC these plants will provide fresh berries every summer for the next 3 years.
This planter will happily fit on a patio or decking area.
Includes the following:
•Wooden planter
•Peat free coir organic compost bale
•Bag of organic plant nutrient
•Water permeable membrane
•Planting instructions
•8 x Strawberry plants
Planter Dimensions: 79cm x 52cm x 15cm
Can be delivered from: Late April to August
Contains the following baby plants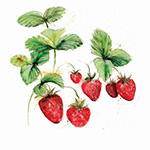 Strawberry Plants
x 8
When we deliver
We deliver these planters and plants from late April through to July, although it's a little dependent on the weather.
You can order from…
These planters are available to be ordered now and we'll despatch them as soon as they are big enough to both handle the journey to your garden and handle life outside the poly tunnel.
Do I need to sign for them?
All our plant orders are dispatched with an overnight courier* to mainland UK and do not need to be signed for when they are delivered, but will be left somewhere safe. When placing your order, please let us know where you would like the plants left if you are not in when the courier delivers.
We will keep you posted
You will receive an email approximately a week before your order is dispatched and another on the day your plants are packed and leave us so you know to expect and prepare for their arrival