DELIVERY INFO: Now taking pre-orders for Spring Plants for 2024. Bare-Rooted Fruit plants will be shipped in Jan. See FAQs for further info.
Mini Year Round Veg Patch
Small but perfectly formed for a continuous crop
This is a fabulous way to grow your own veg all year round. It has been designed to grow well in two standard raised beds or a medley of containers and grow bags making it a fabulous little garden for the serious gardener who is a little short on space.
You'll receive three deliveries across the year, in Spring, Summer and Autumn. Each delivery contains lots of baby plants for you to simply pop into the veg patch so that you can grow and harvest your own veggies all year round. You can start at any time of the year!
NEXT ESTIMATED DELIVERY: May 2024
Space required: Approximately 8m2
Can be grown in: Raised beds, grow bags, pots and containers.
Delivery: You will receive 3 separate deliveries across the year (see below for details), one in May, June and September. You can begin at any time.
Please note: The contents of this garden may vary slightly depending upon the season.
Transplants suitable for organic growing.
THE NEXT DELIVERY WILL BE IN SPRING 2024
Delivery Info:  Please see FAQs for up-to-date delivery info.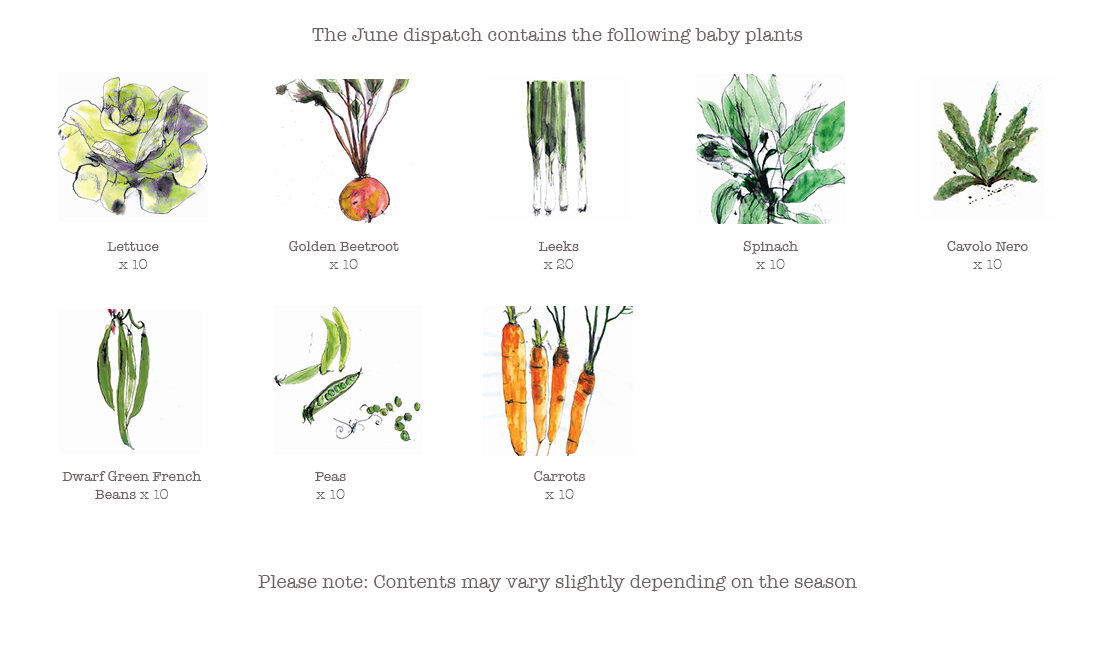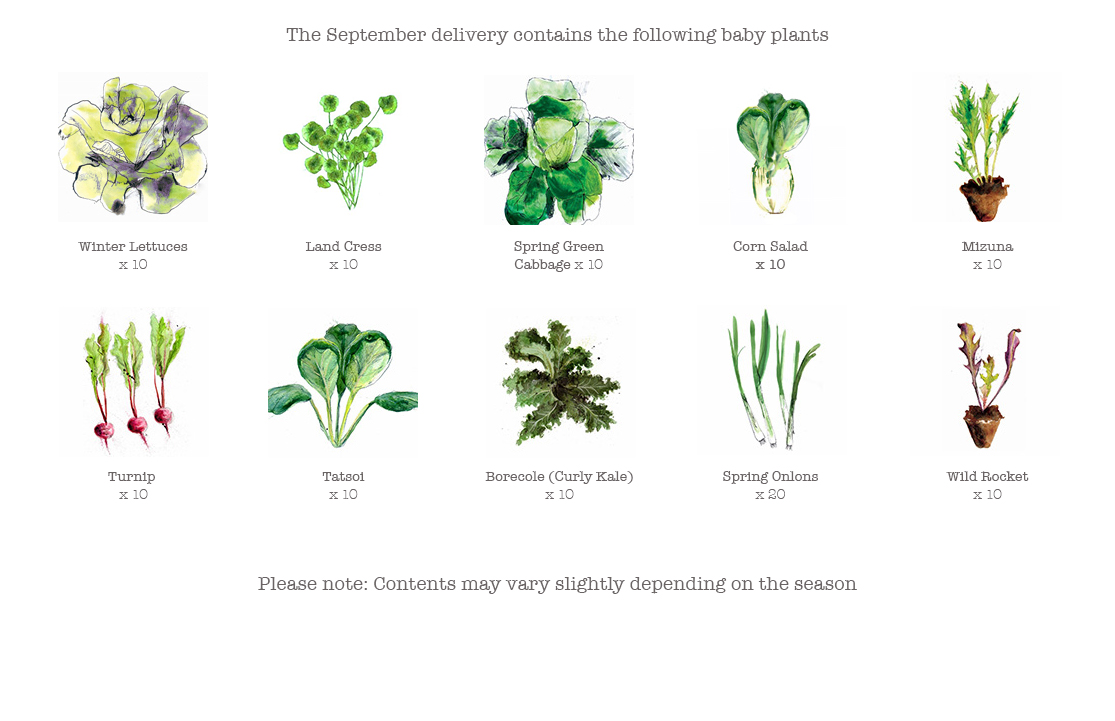 When we deliver
These gardens come as a series of deliveries; May, July, and September. It is a little tricky for us to give a specific date as we do not use any artificial heat to raise our plants, so we are a little dependant on the weather.
You can order from…
Dont worry if you are starting part way through the year, your first delivery will be the next on the list, and any you have missed will be delivered the following year.  As the plants arrive as healthy young plants and will have already been growing for at least 2-3 months before you receive them, giving you a great head start on your vegetable growing!
Do I need to sign for them?
All our plant orders are dispatched with an overnight courier* to mainland UK and do not need to be signed for when they are delivered, but will be left somewhere safe. When placing your order, please let us know where you would like the plants left if you are not in when the courier delivers.
We will keep you posted
You will receive an email approximately a week before your order is dispatched and another on the day your plants are packed and leave us so you know to expect and prepare for their arrival.