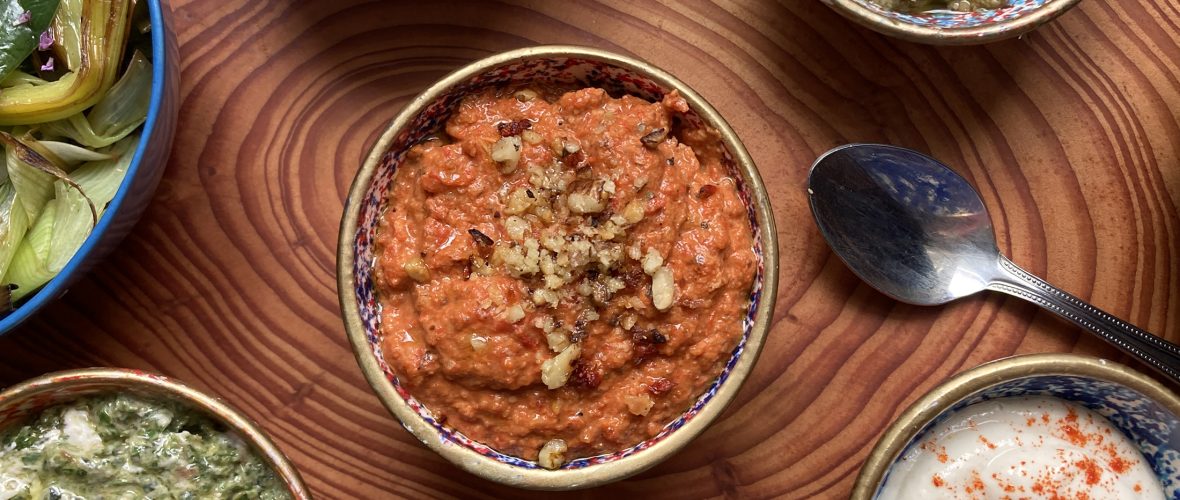 Roasted Red Pepper Dip Recipe
You could actually use red or yellow peppers for this recipe. It has a wonderful nutty flavour, and is just delicious spread on toast and loaded up with other roast veggies, like aubergines or courgettes.
Ingredients
2 red (or yellow) peppers
2 handfuls walnuts
1 tsp ground cumin
1 tsp ground coriander
2 tbsp olive oil
Pinch sea salt
Method
Roast the peppers, whole on a baking tray, in a 220c oven.
Spread the walnuts out onto a roasting tray.
After the peppers have been cooking for 20-25 mins, open the oven to turn the peppers over, and at the same time pop the tray of walnuts in to toast.
Continue cooking both the peppers and walnuts for 5-10 minutes until the skin of the peppers has begun blackening on all sides, and the walnuts are toasted (but not burning!)
Remove from the oven
Set aside the peppers to cool, and then peel off the skin and remove the seeds/stalk.
Add the nuts, the flesh of the pepper, the spices, oil and salt to a blender and whizz it all up into a smooth paste.
Top tips:
When you remove the peppers from the oven, cover them with cling film to trap the steam – this makes it easier to then peel them once cool
If you are prone to forgetting that you are toasting nuts and burning them by mistake, you can add the walnuts without toasting them!
You could replace nuts with panko breadcrumbs as an alternative