Win a Christmas Cracker of a prize!
---
We've teamed up with Freddie's Flowers and Nomad Society to give away a real Christmas cracker of a prize, with a wonder-bundle of flowers, an edible Christmas wreath and a hand-poured winter candle that smells yummy!
(Closing date: 8th December 2017)
Up for grabs....
Three lucky winners will receive a box of Freddie's Flowers, a hand-poured scented soy candle and an edible wreath from Rocket Gardens…all delivered just in time to give your home a festive glow!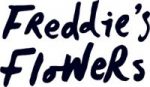 Freddie's Flowers are on a mission to bring zen-like joy to homes across the country by delivering gloriously fresh flowers in stunning combinations. The founder, Freddie Garland (yes, it's his real name) is a big believer that flowers are good for the soul. We agree with him!
Nomad Society has a wonderful collection of hand poured scented soy candles that embrace their nomadic lifestyles. They hand pour in small batches, taking pride in using no mass production in the making of any of their products.