Win a Kitchen Garden Bundle with Wiggly Wigglers and Rocket Gardens
---
We've teamed up with Wiggly Wigglers to bring you this incredible kitchen garden prize…it's got everything you need to grow a bumper crop in 2019, with a Year Round Family Favourites Veg Patch from Rocket Gardens and an Urbalive Worm Composter Kit from Wiggly Wigglers.
What the Prize Includes:
1x Year Round Family Favourites Veg Patch worth £119 from Rocket Gardens
1x Urbalive Worm Composter Kit worth £149 from Wiggly Wigglers
Sorry, this competition is now closed.
Enter the Prize Draw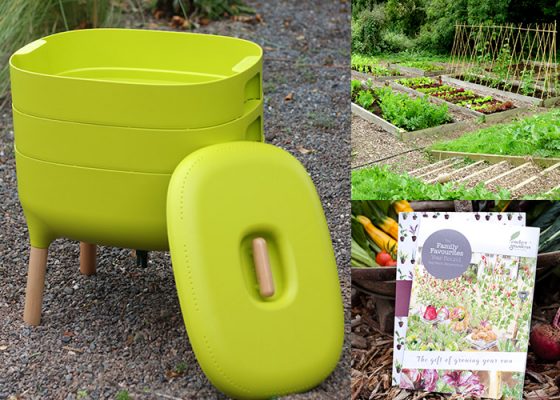 Meet Wiggly Wigglers...
If you love Rocket Gardens, you'll love Wiggly Wigglers too. It is a great business that offers everything you need to enjoy a little bit of country life wherever you are. You'll find all sorts of things to help you attract wildlife to your garden, create your own compost and sow wildflower meadows, as well as some excellent natural pest control solutions which we know you'll be eager to find out more about!
Take a look at www.wigglywigglers.co.uk
The Prize:
Family Favourites Year Round Veg Patch: This comprises three separate deliveries of organic veg plug plants, in May, July and September. The plants will fill approximately 8 square metres of growing space. They arrive with a complete growing guide and garden layout plan to follow, and once planted you can expect to be harvesting some of your veg within just a few weeks, with more cropping throughout the year.
Urbalive Worm Composter Kit: (the winner can choose the colour – Lime/Stone/Brown/Cream).
This kit gives you an easy, odour free way to compost your kitchen waste with red composting worms. The compost that the worms produce is really rich and can be used as a base for potting compost, as a fertiliser when planting out or as a top dressing for your pots and planters. The worms also produce 'worm tea', a liquid fertilizer containing a lot of rich nutrients and enzymes that help your plants grow and prevent pests.  The kit can be used indoors or outdoors in a sheltered spot.