All types of peas (garden, sugarsnap and mangetout) need something to scramble up. Making a support is very simple – here are two ways…
Pea Sticks
Twiggy sticks provide a lovely support for peas to climb. If you can find some lengths of hazel, this is ideal.
For garden peas and sugar snaps, 50-60cm should be fine. Just push them into the ground at 10cm intervals along the row.
For mangetout, longer would be better (e.g. 1.5m-2m) and lean them in to make a wigwam, tying together at the top. This'll help to keep them steady in the wind.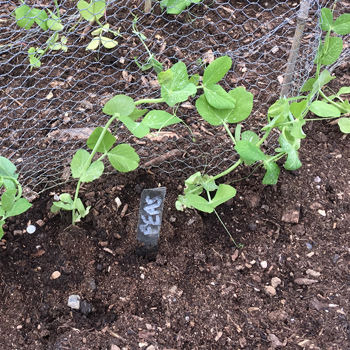 Chicken Wire
A strip of chicken wire supported between two stakes (bamboo works well) is an easy and quick option. Cut the chicken wire to size: For garden peas and sugar snaps, you want the chicken wire to cover the length of the row, and to be approx 50cm high. For mange tout, you need approx 1.5-2m high. Then simply weave the bamboo through the chicken wire and push into the earth.