Only a couple of days to go and we'll be into December. It tends to be a wet and windy time in the veg garden, but hopefully there will be plenty for you to harvest, from celeriac and parsnips, to sprouts and cabbages.
What to harvest
If you planted up a load of roots and brassicas in June/July then they should be ready to harvest this month. Celeriac, sprouts, leeks and parsnips planted earlier in the year should be ready soon as well. You may find that you've still got some purple sprouting broccoli to harvest, as well as turnips planted in early autumn.
If you are growing winter salads and leaves they are likely to be harvestable now as we've had a relatively mild autumn. Pick outer leaves to use them as cut & come again.
Top tips:
Pick sprouts from the bottom of the stalk upwards, only as many as you need, leaving the rest to grow on the stalk (or harvest an entire stalk)
If it starts to turn cold and frosty, it's a good idea to pull up some of your parsnips, leeks and celeriac (and any other roots) before the ground gets too hard and heel them in (see separate blog post below)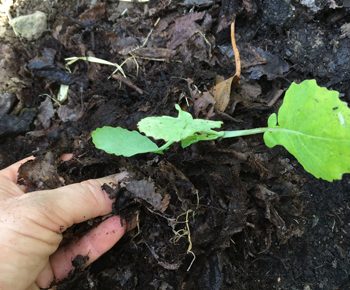 Garden jobs
Make sure empty beds are covered (ideally with a layer of well rotted manure, sheet of cardboard or black polythene) as this will help to improve the soil and warm it for planting potatoes in early spring.
Add a mulch to plants that are currently growing to protect them from colder, wetter weather.
Collect fallen leaves to make a leaf mould (just pop them all in a compost bin, or in old compost bags for the next 12 months or so)
Cover tender plants with horticultural fleece to keep them frost free.
Keep the garden clear of debris as this will greatly reduce the number of slugs and other pests that you have to contend with!
Be aware that mild weather will have allowed rats and other rodents to flourish, so take steps to keep numbers down – don't leave food sources (bird food, harvested crops etc), and nesting materials (like straw) lying around the veg patch.