Grow Wildflowers from Plug Plants
Easy to Grow | Plastic-Free Packaging | Delivered in Spring
Start Growing Wildflowers
It's so easy to start a mini wildflower meadow using plug plants – they can be planted into grassland, in dedicated beds or patches of bare soil, or in pots and containers, ready to flower from early summer through to late autumn.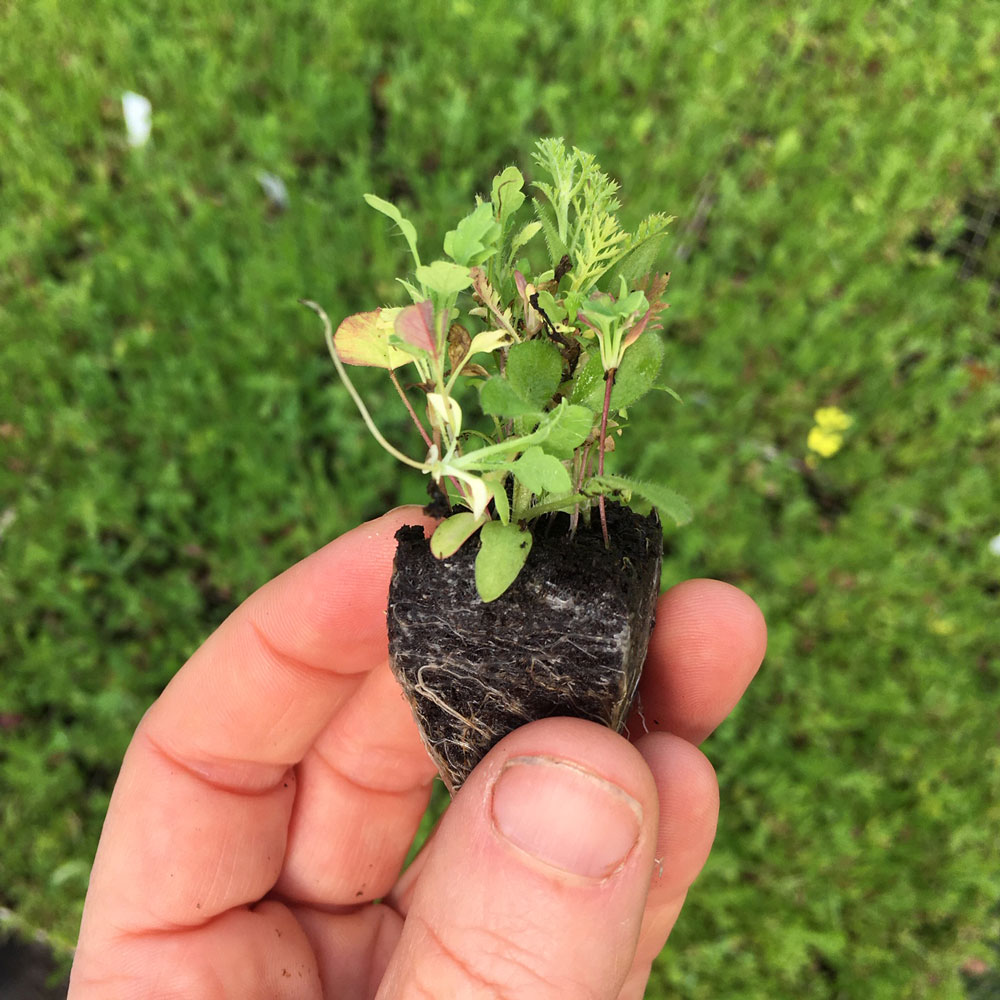 Multiple Wild Flowers in each Plug Plant
There are over 100 different varieties in the seed mix that we use, all annuals which will readily self seed, giving you continual colour for months.
As pictured, each plug plant will have a cluster of different seedlings emerging, a lucky dip from the list below, and they will all grow and flower at different times.
Borage

Clover

Corn Cockle

Cornflower
Daisy – Ox-Eye
Foxglove – Wild
Knapweed
Cranesbill
Poppy – Common
Scabious – Field
Ragged Robin
Teasel
Yarrow
Vetch
And many, many more!
Get Started with Growing Wildflowers
Planting Your Wildflowers
You can plant our Wildflower Plug Plants anytime from April to October. You can choose to plant them in a dedicated patch of bare soil in the garden, in existing grassy areas, or in a pot/planter for a mini-meadow on your patio. Plant 5-10cm apart for a natural look. If planting in grassland, cut the grass as short as you possibly can just before planting, and remove the grass cuttings. Plant on a day when the soil is quite moist – it will be much easier for you! Then, try to avoid mowing from spring to late autumn.
When Will They Flower?
You can expect flowers until the first frosts in autumn. The various different plants flower at slightly different times of year, so some will flower this summer, and you may not see others until next spring.
Will They Come Back Next Summer Too?
If you'd like to keep your wildflowers going, let the flowers form seed heads in late autumn and then cut them back. Leave the cuttings on the ground for a week or two so the seeds can drop, and then clear them away.
What Our Customers Say...
""
I've just received my first order and just wanted to let you know how delighted I am. Plants look beautifully healthy and the planting guide is very informative. Thanks!!
M. R.
""
Brilliantly packed box. The best of any plants I've ordered!
C. R.
""
Your plants are top quality, customer service is fantastic, your regular blog posts are so incredibly helpful and the lack of plastic in your packaging is so appreciated. We now only buy our veg plants from you and recommend you to everyone!
N. B.
Get The Weekly Veg Out
Growing tips, recipes and garden jobs delivered to your inbox every Saturday