How to grow... Carrots
Rocket Growing Guides
It's the quintessential Mr MacGregor veg, and a real delight to grow with children who get so excited about pulling their carrots out of the ground. It's an easy vegetable to use in the kitchen as well, great for salads, soups and roasts and a whole load of other recipes.
Planting Tips
Growing advice
Chef's Corner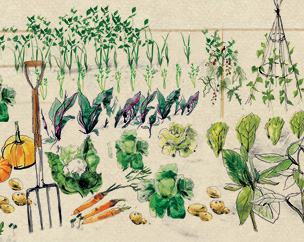 The right site
Watch out for stones – carrots should be grown in a stone free environment so that they can develop their carroty shape. They are pretty versatile but will grow best in very light, deep soils and not so well in heavy or sticky clay soils. If you don't have the right type of soil you can do one of the following:
1. Create a trench about 20cm deep and 20cm wide and fill with a mixture of good quality compost and sand.
2. Use a reasonably deep planter (20cm) containing a light sandy compost mix. Level the top of the soil carefully.
Can be grown in....
Raised beds, planters or large containers.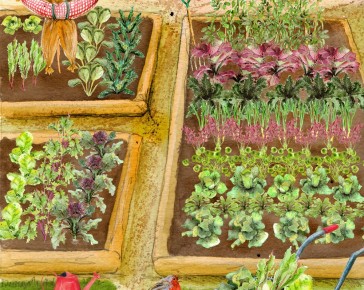 How far apart?
Once your ground is prepared you can pop in your plants about 8cm apart.
Looking after your plants....
Your carrots will arrive growing in biodegradable pots. You may notice that there is more than one plant growing in each pot. If this is the case remove the smallest of the plants, leaving the largest in the bio pot. It is important to carefully peel off the base of the biodegradable pot before planting.
---

Protect them with fleece
Protect from carrot fly using a barrier of fleece or micromesh up to a height of 50cm.

Weed regularly
Keep carrots well weeded for a better crop.
Storage Tips
Once harvested, pop them unwashed into a paper sack to keep until you're ready to cook them. You can also keep carrots in the soil – cut the green foliage off and then cover them with a layer of straw or cardboard. To keep them from getting waterlooged, cover the cardboard with a polythene sheet.
Ways to cook
Carrots are really versatile, and you can make quite a feast by keeping things simple. Steamed carrots with a knob of butter, grated carrots with a simple lemon juice dressing, or roasted with other root veg.