Growing fruit is really quite easy, although the word "pruning" tends to put people off. Please, don't panic about pruning and just pick one or two fruits that you love to eat and give them a go. They grow really well in pots too, so you don't need to dedicate a big patch of space to them. Plus, since we now sell them as potted plants, getting them going this summer couldn't be easier and in just a few weeks you could be harvesting your own berries for some tasty crumbles!
These are our top picks that we'd recommend if you're new to fruit growing…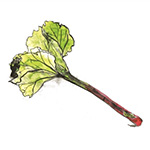 Rhubarb
Right now the rhubarb we're growing in pots for you to buy is looking super healthy and really very luscious! All you need to do is plant it in the ground (you can easily plant it in borders or beds) or in a large pot making sure you've got plenty of well-rotted manure dug in to the soil.  Water it in well and use the straw from your plant delivery as a mulch around the base. In autumn it'll die back, and next spring it will pop back up again and you can start harvesting it. It should keep going for a few years.
Blackcurrant
These little berries of brilliance are particularly great if you've got a slightly shadier garden and you don't even have to worry about pruning them for the first few years! So, simply plant them in large pots, or straight into the ground leaving 1.8m between plants, making sure you've dug in lots of lovely manure (well-rotted) to add nutrients to the soil. Keep the soil moist this year while the plant settles in and enjoy some berries in late summer!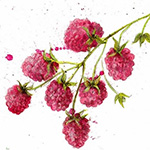 Autumn Fruiting Raspberries
Mmm, yummy raspberries! Plant your autumn fruiting raspberry canes 45cm apart or in large pots and water them in well.  Make sure you give them a thorough watering every few days during dry spells. We've chosen autumn fruiting raspberries in this guide because pruning couldn't be easier…in the winter months, cut all the canes to ground level. It's as simple as that.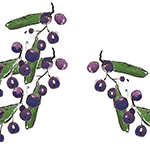 Blueberry
We've chosen blueberries as they're great in pots and will even grow well in a bit of shade. Plant them in pairs (in two separate large pots or straight into the ground 1.2m apart) to increase chances of pollination to get a good crop. Keep the soil nice and moist and they'll grow well. After you've had them for a couple of years you can do some light winter pruning by simply cutting a fifth off each branch and cutting off any low branches that will touch the ground. Easy!