DELIVERY INFO: Due to the high volume of orders this year we currently expect to deliver new orders for plants & veg patches in mid/late May. Please see FAQs for further info.
Quick Growing Salad Collection
This little collection just keeps giving
If you are keen to begin harvesting tasty salads in just a couple of weeks after planting, then this easy to grow little pack of cut and come again salad plants is perfect for you.
You'll receive various different salad plants, with 3 types of lettuce, as well as spinach, rocket, mizuna, mustard leaves, chard and beetroot.
ORDER NOW FOR DELIVERY IN SPRING 2020
Number of plants: 90
Can be grown in: Raised beds or pots. Find out more in our growing guide below.
In the kitchen: Pick a few leaves from each to make your own mixed salad and ditch the supermarket salad bags this summer.
Can be delivered from: Late April to July.
Transplants suitable for organic growing.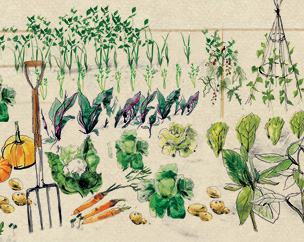 The right site
They need plenty of sunshine and moisture-retentive soil.
Can be grown in....
Raised beds or pots – they are pretty easy growing!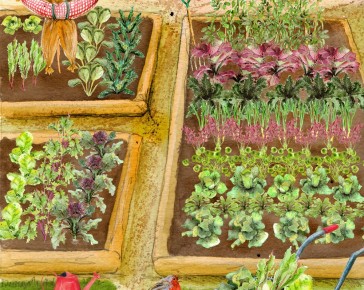 How far apart?
As a general rule, give them about 15cm space. As always, you should check the instructions on each variety when you receive your baby plants to make sure you give them enough space.
Looking after your plants....
Lettuces and leaves are really very low-maintenance, so you can't go too wrong.
---

Watering them
Water well, particularly during dry spells

Weeding
Keep the weeds down to give them the best chance
Storage Tips
We really recommend picking what you need, when you need it. But they will keep in the fridge for a coupleof days.
Ways to cook
It's not all about salads, although freshly cut lettuce from the garden is one of the best things about summer salads! You can try making summer soups with wilted lettuce, pea and mint. And a lot of leaves are great in stir fries.
When we deliver
We usually deliver these plants through into July, although it's a little dependent on the weather.
You can order from…
These plants are available to be ordered now and we'll despatch them as soon as they are big enough to both handle the journey to your garden and handle life outside the poly tunnel.
Do I need to sign for them?
All our plant orders are dispatched with an overnight courier* to mainland UK and do not need to be signed for when they are delivered, but will be left somewhere safe. When placing your order, please let us know where you would like the plants left if you are not in when the courier delivers.
We will keep you posted
You will receive an email to let you know that your order is ready to be dispatched and another on the day your plants are packed and leave us, so you know to expect and prepare for their arrival.