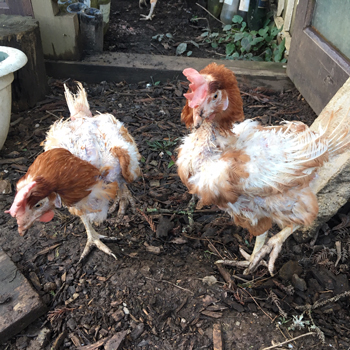 I thought I'd give a final little update on my  rescue hens before getting back on to more veg patch related things in the coming weeks! I adopted my 4 rescue hens 1 month ago, on December 15th. It was really cold then, and the poor things were very featherless indeed (as pictured!), so keeping them warm was a real problem. The last time I updated you all, a week after bringing them home, I explained that one had sadly died and another one was living in my kitchen, having been very poorly but seemingly recovering well. The other two were happily hanging out in the chicken run eating as much as they possibly could.
Fast forward to 15th January and I am both sad to report that the poorly chicken took a turn for the worse and died a couple of days after my previous post, but that the other two are still really thriving. They have more or less grown back all their feathers (which is lucky as it is very frosty and cold overnight this week), they eggs pretty much every day, and they are getting along with my speckled hens brilliantly. The four of them snuggle up together in the nest box to keep warm at night – it's very sweet.
I'm so pleased to see how well they've recovered and adapted to their new home. It really is amazing the difference that just a few weeks of being looked after and having space can make.