Some herb plants are just great for flowery pots or growing in borders.
Here's our pick of the best to grow for their flowers…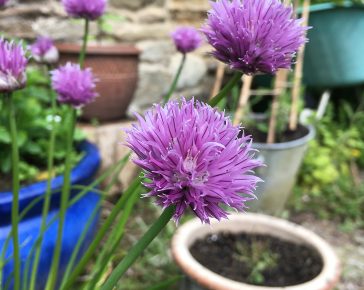 Chives
Chives are such reliable herbs for the kitchen garden. We have both regular chives (pink flowers, oniony flavour) and flat garlic chives (white flowers, garlicky flavour) for you to try – they both do very well in sun and partial sun. Perennial plants, chives will come back again and again every spring. The flowers are edible, and they really are lovely additions to beds and borders.
Feverfew
Feverfew produces a long succession of daisy-like flowers, all summer long. Even if you have no intention of using the herb, it's a very lovely plant to grow providing a good amount of ground cover as well being fairly shrubby in habit. It is a perennial, so will come back in spring (and may even continue growing during a milder winter in some areas.) Another alternative would be chamomile which produces similar flowers – it is a prolific self-seeder, and can be useful for natural-effect borders.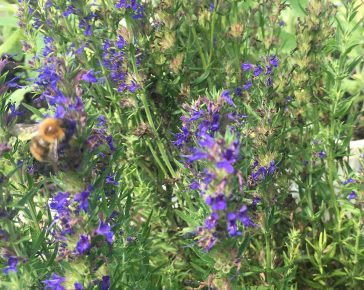 Hyssop
Hyssop produces lovely tall spikes of purple flowers that are very popular with the bees. It looks sensational in borders and flower beds and is a reliable grower. We'd definitely recommend giving it a go, even if you have no wish to use it as a herb.
Rosemary
We've chosen rosemary because it flowers in very late winter/early spring and provides a bit of colour in a herb garden or border before other flowers have come to life. The foliage is so attractive too, it really can add structure to a border. It'll take a couple of years to reach full size, but once it does it looks so majestic, standing at a metre and a half tall and leaning towards the sun.
Pineapple Sage
New to our herb range this year, pineapple sage is wonderfully easy to grow and a real winner in two respects – firstly, the leaves actually smell like pineapple and secondly, the tall flower spikes are a striking scarlet red that look great in borders.