How to grow... Potatoes
Rocket Growing Guides
Growing potatoes is abundantly fun and they are great for getting children involved. Our friends over at River Cottage advise putting your efforts into growing the more unusual varieties that you don't often find and new potatoes which are pricy in the shops. We couldn't agree with them more.
Planting Tips
Growing advice
Chef's Corner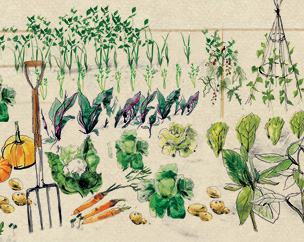 The right site
You want well dug soil that is moisture retentive in a nice open position. Potatoes also prefer slightly acidic soil.
Can be grown in....
Potatoes need a bit of depth. You can grow them straight in the ground in a raised bed, or in a deep planter. We've known Rocketeers to grow their spuds in a stack of old tyres or even in an old wheelbarrow.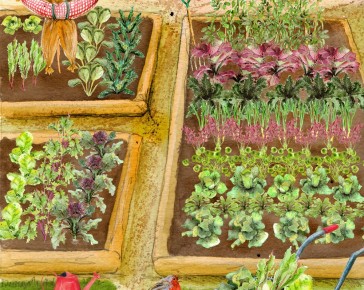 How far apart?
Earlies: about 30cm (12in) apart with 40-50cm (16-20in) between the rows
Second earlies and maincrops: about 38cm (15in) apart with 75cm (30in) between the rows.
Looking after your plants....
You'l get loads more from your potato crop by following the tips below:
---
If planting straight into the ground...
If planting straight into the ground,  you'll need to dig a trench approximately 15cm deep, and place your potatoes into the trench and then cover with soil.
If planting in containers...
If planting in containers, choose one that's at least 30cm deep and wide. Half fill the container with multi-purpose compost or good quality, fertile garden soil. Place two seed potatoes on top of the compost and cover with another 10cm of compost.
Earth them up
As the shoots appear, earth up each plant by covering it with a layer of soil so that the shoots are just buried. Continue to do this at regular intervals and by the end of the season each plant will have a small mound around it about 15cm (6in) high. (This is done to prevent light getting to the potatoes, which would turn them green. It's also good for keeping weeds down!)
Watering them
Potatoes are binge drinkers! So, water them well as soon as you plant them and after that, give them a thorough watering occasionally during dry spells to keep them happy.
Storage Tips
Earlies won't keep very long – you're best to dig 'em up as you want them. The best way to keep maincrop potatoes is in a paper sack, or hessian, in a dark, cool place. They'll keep for a good few weeks like that.
Ways to cook
The key to cooking potatoes is choosing the right variety for the right method of cooking…floury potatoes lend themselves to roasting and mashing.