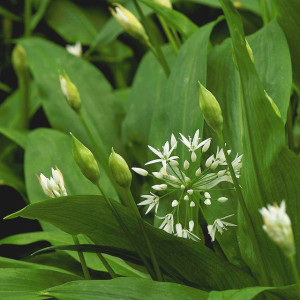 We're right in the middle of the wild garlic season at the moment. It's all over the place but you're most likely to find it in woodland areas. You really can't miss it…it smells garlicky! Look out for the big green leaves covering the ground with white flowers. If you're unsure, pick a leaf, tear it up and give it a sniff, you'll know soon enough!
There are a few things you can do with wild garlic, here are our top three:
Make wild garlic butter

Pick two to three good handfuls of wild garlic leaves and give them a wash. Chop them up roughly and using a fork mix in well with a pack of slightly softened butter. Once it's mixed together, get a sheet of greaseproof paper and roll the butter into a sausage shape. Pop this in the fridge for an hour or so to firm up and then peel off the greaseproof paper and cut the butter into 1-2cm discs. You can freeze these discs and help yourself to a little garlic butter whenever you fancy melting some over your veggies this summer.
Whizz up a wild garlic pesto
This is super easy to make…all you need to do is whizz all the following ingredients up together in a blender. Add a little more oil if you find it's too thick. You don't need to use a lot of it when cooking, just a little teaspoonful will totally transform a dish. It's great with pasta, of course, but also try it with grilled mushrooms and aubergines. Mix with mayo for a tasty dip!Ingredients:
– 2 handfuls wild garlic
– 2 handfuls parsley
– 60g toasted pine nuts
– 60g grated parmesan
– 150ml olive oil
– a squeeze of lemon juice
– a pinch of sea salt and freshly ground black pepper
Add to olive oil for a punchy flavour

This is a good cheat's way of adding a quick garlic flavour to anything you are cooking. All you need do is finely chop a handful of wild garlic leaves (make sure they are completely dry), mix with olive oil and put it into a sterilised jar. Be sure to cover the garlic with 1cm olive oil at the top. Drizzle this over steamed veg, fry your potato wedges in it or use as the base of a salad dressing.