I always enjoy seeing my 2 herb gardens come into their full glory during summer – the marjoram and oregano both start flowering and everything seems to take on that serene summer-like quality. I planted mine several years ago, but with every year the herbs look more and more attractive, and they are now quite a focal point in my plot.
For one of the beds, I planted up a medley of herbs in and around a tree stump that I couldn't face trying to remove. It has worked so well, and over time the tree stumps have been totally masked by the herbs. For the other, I have a small border along the edge of the plot, about 1.5m deep and perhaps 3 metres long.
Here are a few tips and pics that I can share with you…
Rosemary is great for structure
I love how the rosemary plants that I put in have just got more and more majestic with each season. Their tall spiky foliage provides great structure, so make sure you give them plenty of space to grow. Lavender is great for this too, although it takes a little longer to make an impact. Mine is 3 years old and finally looks the part.
Use a medley of pots and beds
I've planted several things straight into the ground, and then I've dotted a few pots in amongst them. It creates quite a romantic, cottage garden style look that works really well. It also means I can mix things up a bit each season by moving pots around whilst maintaining the well-established look.
Include other plants
It's really nice to see other plants growing alongside the herbs – I don't think it has to be a dedicated herb bed. I've got strawberries that self-seeded running along one of my herb beds, and it looks great. Likewise, I have some rudbeckia plants growing which bring beautiful yellow flowers into the herb garden in late summer, and it's so cheerful.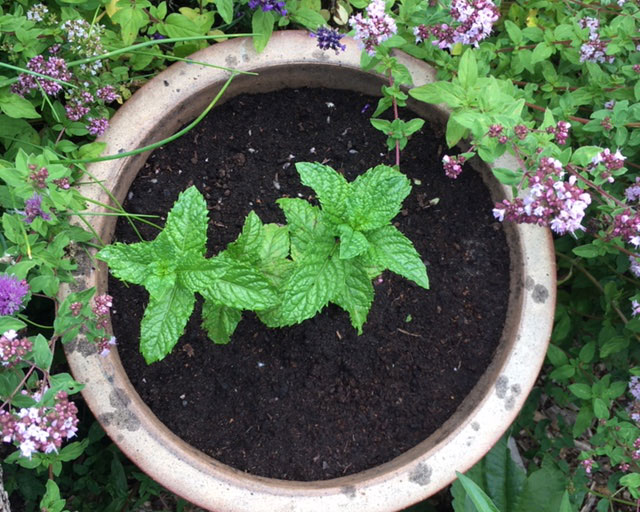 Keep your mint in pots!
I made the mistake once of planting mint straight into the ground and it is not a mistake I intend to repeat. It's much better contained within a pot, and replace the plant every few years. This way, the plant looks much healthier and won't take over the entire bed! The same goes for Lemon Balm.
Let the wild flowers muddle in
I love the red campions that pop into the garden uninvited. They keep the herb garden looking colourful even before it all starts flowering, and attracts the bees too. It also gives the garden a rather charming natural look. I do pull out the nettles, goose grass, and brambles, but most other "weeds" are permitted, as long as they have nice looking flowers!
Greek Oregano & Marjoram are heroes!
These are so quick to get established, and they make your herb bed look as if it has been there for years. Be sure to cut back the flowers before they self-seed though – I have marjoram growing all over the place, which I don't really mind but I can imagine it would be frustrating in a small plot! Chives are a winner too with their little pink flower heads – they self seed easily too.