Fill your home with loads of lovely, natural Christmassy greenery this year! Making decorations with festive foliage is both fun to do (and a great way to spend an afternoon with the family) and rewarding to see in the house over Christmas… for those that want to give it a go, here are a few suggestions!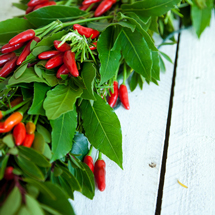 Make a beautiful garland
You'll need some floristry wire for this… cut a strip of wire to the length you want your garland to be (no longer than 2 metres, as it gets a bit tricky. If you need a really long one, make the garland in separate lengths) and suspend it between the back of two chairs. Then, using the remaining wire, attach small bunches of greenery to the suspended wire, tying them in one at a time so that they overlap. There are some good videos on youtube to have a look at.
Style the mantlepiece
You can use your foliage and pinecones to make a very heartwarming arrangement on top of the mantelpiece. Use secateurs to cut pieces of foliage to the right sizes, carefully arrange them along the mantlepiece and add a few pillar candles to complete the look, ensuring that the flames are well clear of any foliage before you light them! And, please, please don't leave the candles unattended whilst they are lit!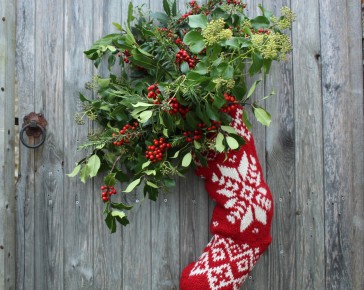 Hang up a decorative stocking
Fill a stocking with stuffing (crumpled up newspaper works well, or old scraps of fabric). Pull your foliage into a nice big bunch (wear gloves to avoid holly prickles!) and tie with garden twine to hold it in place. Place the foliage bunch into the top of the stocking and use the safety pins to pin the main stems in place.
Make mini Christmas wreaths
Mini wreaths hanging off doorknobs around the home will look really festive. You can easily make a wreath frame using willow, or an old coat hanger. Once you've got the frame, simply tie in the fir using twine before adding other decorative bits and bobs – fir cones and holly look great!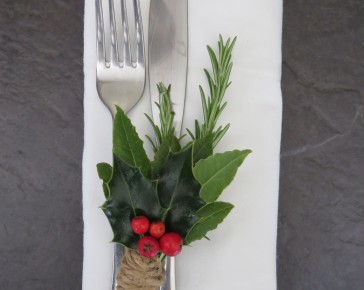 Add the finishing touches...
Use smaller sprigs of greenery to add finishing touches to wrapped presents, table layings, candle centrepieces and so on. A little bit of holly here and there makes all the difference at Christmas!